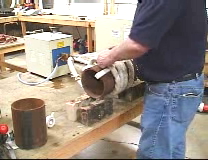 ALL NEW Technology Portable annealing machines

The most advanced Induction heating machines that can be used for various annealing applications.

These units consume 50% less power and 75% less maintenance.

These machines are completely portable and require as little as 40 amps

Annealing pipe on the job site or in the plant

Not just for pipe but many applications in thermoplastic setting and epoxy and glue adhesives

From 3KW to 300KW we have the right power for the job

Wonder Weld Co. (614) 875-1447.